Cosmetic dentistry Ottawa
We offer cosmetic dentistry in Ottawa to give you a brighter, more beautiful smile. Book a visit to discover how we can help improve your smile.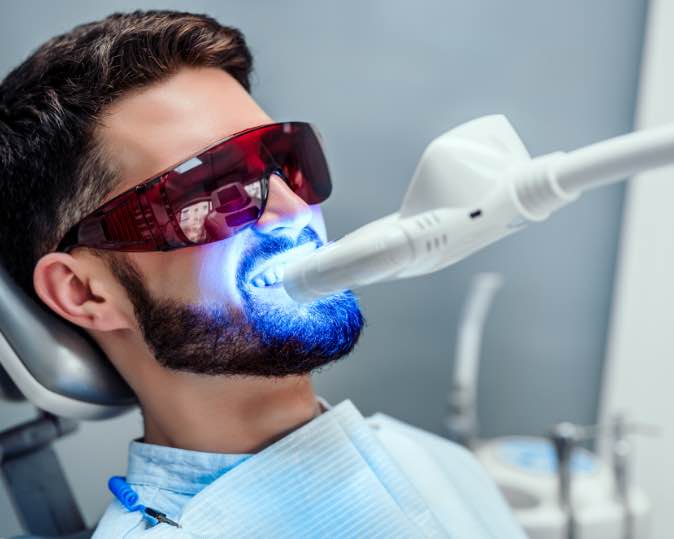 We can help you achieve a brilliant smile
Cosmetic dentistry is dental work that improves the appearance of your smile. It addresses dental issues such as stains, misshapen teeth, cracks, and gaps, so that you can confidently show your full smile.
Benefits of cosmetic dentistry
Improves appearance: Corrects dental imperfections, giving you a more youthful, beautiful smile.
Boosts confidence: Helps you let go of self-consciousness about your teeth, so you can smile with confidence.
Improves oral health: Improves your smile's health and functionality by adjusting your bite and repairing weak teeth.
Long lasting results: Long-lasting transformations that improve your smile for years to come.
Our trusted Ottawa dentists welcome new patients for cosmetic dentistry. Types of cosmetic dentistry we offer
When people hear the term "cosmetic dentistry", they often think of teeth whitening and porcelain veneers.
But there are many other ways to transform your smile with cosmetic dentistry in Ottawa.

Teeth whitening
Teeth whitening is a fast and simple way to brighten your smile. A number of factors can discolour teeth, including smoking, coffee, tea, red wine, and antibiotics. Our Ottawa dentists can help you restore your teeth to their brilliant best. The first step is to consult with a dentist and discuss your cosmetic goals. If you're a good candidate for teeth whitening, they'll make a custom take-home whitening kit to use at your convenience.

Inlays and onlays
Dental inlays and onlays are used to restore damaged or decayed teeth. Unlike crowns, they do not cover or fill the entire tooth. Instead durable material is bonded within the centre of a tooth (inlay) or on the biting surface (onlay). Inlays and onlays can be shade-matched to blend with the rest of your smile for a natural result.

Dental implants
A dental implant is a comfortable and aesthetic way to replace missing teeth. Dental implants replace tooth roots and act as an anchor for an artificial replacement tooth.  They can be used to replace a single tooth or multiple teeth. Dental implants are made to look and feel like real teeth, so you can show off a natural-looking smile.

Dental veneers
Dental veneers are a popular type of cosmetic dentistry that can transform the shape, colour, and symmetry of your teeth. They are made of a thin porcelain shell that is cemented to the surface of your teeth. Dental veneers can be used on one tooth or several teeth. Many people get six to eight veneers on their top front teeth for a more even smile. Veneers mimic the appearance of your real teeth to achieve a natural look.

Dental crowns
Dental crowns help boost confidence by restoring the shape, size, and appearance of teeth. They are a protective cap that is placed over decayed, damaged, or misshapen teeth. Aside from improving the look of your teeth, dental crowns also protect your tooth structure and help keep your smile healthy.

Gum grafts
Gum grafts are a type of cosmetic dentistry that restores the gumline. Certain factors, such as age, smoking, and aggressive brushing can cause your gums to pull back. Receding gums expose the yellow tooth root beneath, making your teeth appear longer. Our Ottawa dentists use AlloDerm® RTM (Regenerative Tissue Matrix) to restore your gumline, and give you a more youthful smile.
New to our clinic? What to expect
1. Book a visit
We're always here to help you reach your healthy smile goals. The first step is to give us a call at 613-224-1393 or book a visit online.
2. First visit
During your initial visit, one of our friendly Ottawa dentists will perform an exam and come up with the right treatment plan for your needs.
3. Your smile, your choice
We know that coming to the dentist can be intimidating. We'll help put you at ease, so you can make empowered choices about your oral health.
We want to
meet you
Our team of trusted dental professionals is ready to help you achieve a healthy, beautiful smile. We welcome new patients for cosmetic dentistry in Ottawa.