Sedation dentistry

Ottawa

We offer sedation dentistry in Ottawa to reduce anxiety and provide a relaxing, stress-free dental experience. Book a visit to find out the best treatment and sedation options for you.
Feel relaxed and calm in the dental chair
If you struggle with anxiety and dental phobias, sedation dentistry can help make your dental procedure as comfortable and pain-free as possible.
Sedation dentistry involves administering a drug before or during a dental procedure to relax you. Aside from being a safe and reliable way to put you at ease in the dental chair, sedation dentistry provides many other benefits.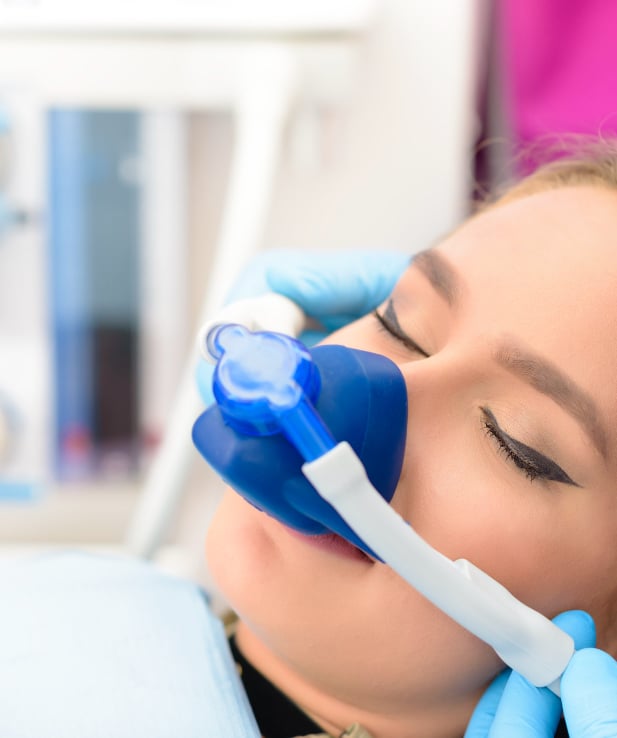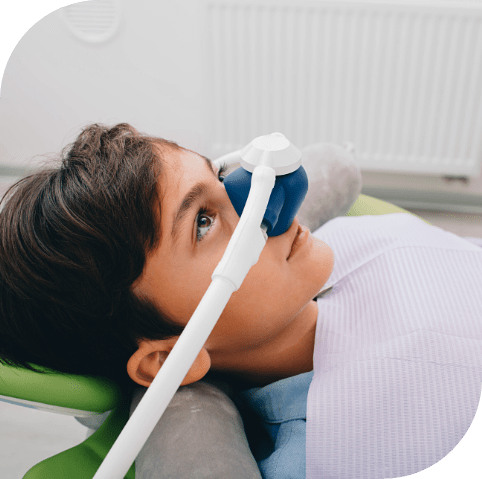 Benefits of
sedation dentistry

in Ottawa
Reduces dental fear and anxiety, so you can relax during your procedure.
Relieves stress and allows you to feel calm, as your dentist improves your smile.
Reduces pain, so you can leave behind your fear of visiting the dentist.
Saves you money by allowing your dentist to work faster and more efficiently.
Our friendly Ottawa dentists are here to make your dental visit as comfortable and pain-free as possible.
Types of
sedation dentistry
We use three main types of sedation dentistry to help manage pain and anxiety levels during dental procedures.
Nitrous oxide sedation
Also known as laughing gas, nitrous oxide (N2O) is a safe and reliable type of sedation that has been used in dentistry for over a hundred years. It involves administering a gas that relaxes you, but doesn't put you to sleep. It helps you to feel at ease in the dental chair, even if you normally have dental phobias.
Oral sedation
An oral sedative is a pill that you take before your dental procedure. You remain awake, as the sedative reduces your anxiety and helps you feel calm and relaxed.
Intravenous sedation
Intravenous (IV) sedation puts you in a sleep-like state during your dental procedure. Also known as general anesthesia, IV sedation is administered via a needle and works quickly to fully relax you. You will likely feel drowsy as the IV sedatives wear off, which is why it's important to have a friend or family member available to take you home.
Who needs sedation dentistry?
Sedation dentistry is used for a variety of reasons, including:
Phobias of dental procedures
Patients with hypersensitivity
Special needs patients
Invasive and complex procedures
High anxiety levels
Past traumatic dental experiences Is sedation dentistry safe?
At Merivale Dental Centre, your safety and peace of mind is our priority. We use sedation dentistry with care, tailoring the type of sedative and dosage to your needs. Our skilled and experienced Ottawa dentists also closely monitor your vital signs to ensure that you're safe and comfortable throughout the procedure.
Cost of sedation dentistry in Ottawa
The cost of sedation dentistry depends on a few factors: your insurance coverage, the type of sedative used, and the duration of sedation. One thing to keep in mind is that your dentist may be able to perform several procedures at once while you're sedated. This will save you the expense of multiple dental visits.
New to our clinic? What to expect
1. Book a visit
We're always here to help you reach your healthy smile goals. The first step is to give us a call at 613-224-1393 or book a visit online.
2. First visit
During your initial visit, one of our friendly Ottawa dentists will perform an exam and come up with the right treatment plan for your needs.
3. Your smile, your choice
We know that coming to the dentist can be intimidating. We'll help put you at ease, so you can make empowered choices about your oral health.
We're ready to
meet you
Our team of trusted dental professionals is ready to help you achieve a healthy smile in the safest way possible. We welcome new patients for sedation dentistry in Ottawa.