Gum grafts

Ottawa

We can help restore your gumline and improve your smile with gum grafts. Book a visit to find out if a gum graft is right for you.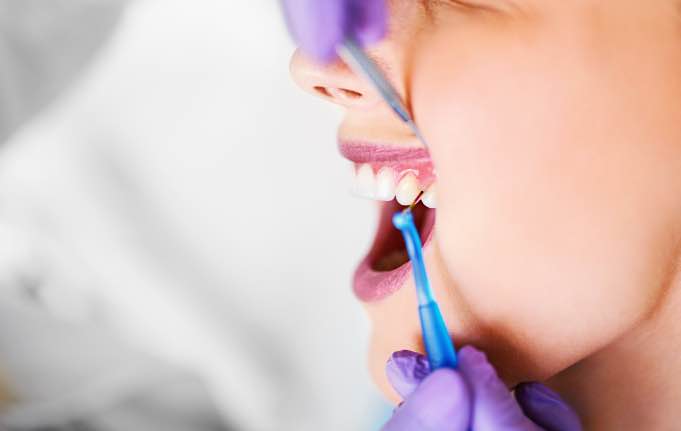 Restore your gumline for a healthier smile
A gum graft is a relatively simple and quick surgery to correct gum recession and give you a healthier, more youthful smile.
It involves taking tissue from your palate or another donor source and grafting it to the area of gum loss. There are many benefits to restoring your gumline with gum grafts.
Benefits of gum grafts
Protects the exposed tooth from decay, bone loss, and further recession.
Improves the appearance of your gumline, giving you a more youthful smile.
Reduces tooth sensitivity along the gumline, so you can eat with confidence.
Permanent, long-lasting results that can last for several years to a lifetime.
We're always here to help you achieve healthy gums and a happier smile. Types of gum grafts we offer in Ottawa

AlloDerm® RTM
Our Ottawa dentists use AlloDerm® RTM (Regenerative Tissue Matrix) to restore your gumline and improve your oral health.
AlloDerm® RTM uses sterilized, donated tissue from which the cells have been removed. It supports tissue regeneration by acting as a scaffold into which your own cells grow over time.
Widely used in the medical and dental field for decades, AlloDerm® RTM is a safe and reliable alternative to your own tissue. When used for gum grafts, this method achieves natural results that blend seamlessly with the rest of your smile.

Connective tissue graft
This type of gum graft uses your own tissue to restore your gumline's appearance and function. It involves harvesting tissue from the roof of your mouth and using it to cover exposed tooth roots and correct gum recession.
Connective tissue grafts are a long-lasting treatment that prevents further recession and bone loss and allows you to smile more confidently.
FAQs
How soon can I return to work after gum grafts?
Typically, you can return to work within 24 hours following a gum graft. Your dentist will tell you if more time away from work is needed.
What is the cost of gum grafts in Ottawa?
The investment for a gum graft varies depending on how much grafting is needed, and whether you have insurance coverage. When you consult with a dentist, they will tell you the best treatment options and costs.
What can I eat after gum grafts?
Your dentist will advise you on what type of foods to eat after receiving gum grafts. Generally, a liquid diet is recommended for the days following the procedure. Avoid hot, acidic, and spicy foods and drinks for several days. It's also important to avoid using straws, as they can disrupt the healing process. If possible, chew on the side of your mouth that has not had the graft to minimize irritation.
What can I expect during recovery after gum grafts?
You may feel soreness in the treated area for a few days, however the discomfort should decrease within three to four days. It typically takes four to six weeks for the graft to fully heal and integrate. During this time, it's important to follow your dentist's home care instructions for optimal healing.
When can I brush after gum grafts?
We usually recommend that you wait one to two weeks before brushing and flossing the gum graft area. Your dentist will advise you on when it's safe to start brushing again. They may also recommend that you use an antimicrobial mouthwash during the healing process.
What possible complications are involved?
A gum graft is a safe and common procedure for which complications are rare. Potential complications include swelling, infections, and uneven healing. Our skilled and experienced Ottawa dentists always prioritize your safety and comfort during gum graft procedures. You'll be able to feel peace of mind as we restore your smile.
What causes gum recession?
Although gums tend to recede with age, cigarette smoking and aggressive tooth brushing can also cause recession. Other causes of gum recession include gum disease, oral piercings, and genetics. Teeth grinding and a misaligned bite can also cause recession because they place pressure on the teeth and gumline.
New to our clinic? What to expect
1. Book a visit
We're always here to help you reach your healthy smile goals. The first step is to give us a call at 613-224-1393 or book a visit online.
2. First visit
During your initial visit, one of our friendly Ottawa dentists will perform an exam and come up with the right treatment plan for your needs.
3. Your smile, your choice
We know that coming to the dentist can be intimidating. We'll help put you at ease, so you can make empowered choices about your oral health.
We want to
meet you
Our team of trusted dental professionals is ready to help you achieve a healthy, beautiful smile. We welcome new patients for gum grafts in Ottawa.