Pediatric dentistry

Ottawa

We strive to make dental visits fun and stress-free, so your child feels at ease at the dentist. Book a visit to start your child on the right path to oral health.
Establishing good oral health at a young age
At Merivale Dental Centre, we know that positive childhood experiences at the dentist pave the way for lifelong oral health. That's why we provide a welcoming and fun environment where children can learn how to take care of their teeth and gums.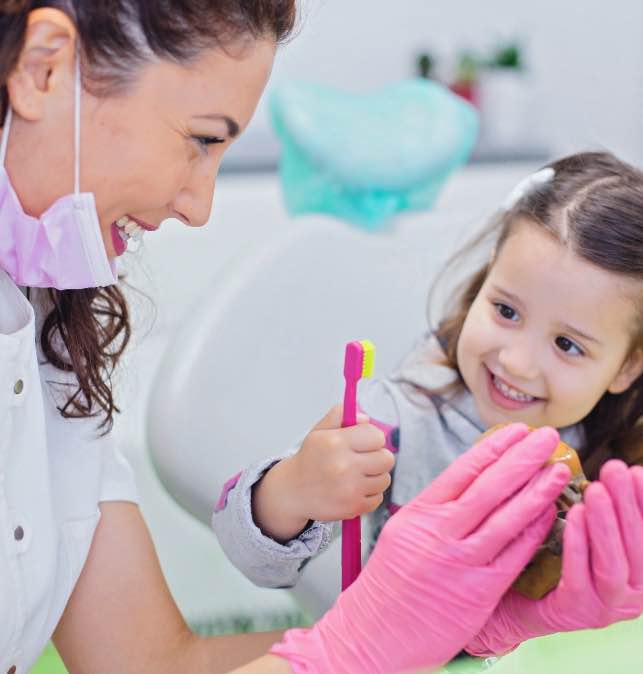 Benefits of
pediatric dentistry

in Ottawa
Helps children develop a positive attitude about dental visits.
Prevents future dental issues by building a strong foundation for oral health.
Educates children on proper brushing and flossing techniques.
Provides baby tooth care to prevent tooth pain and cavities.
Helps children develop good dental habits by making oral care fun.
Our friendly Ottawa dentists are here to help protect your child's oral health for years to come.
A child-friendly approach to dental care
Our team members have warm and friendly personalities that put children at ease.
Many of us have children of our own, so we know the right approach to build rapport and make oral care fun.
We also use educational techniques to get kids excited about taking care of their teeth.
For example, we use the tell-show-do method to help apprehensive children to relax during dental procedures.
The tell-show-do method
Tell: We explain what we'll do in simple, child-friendly terms.
Show: We show what we'll do in an exploratory way. When it's safe, we allow the child to touch the equipment and get familiar with it.
Do: Now that the child is feeling more comfortable, we perform the procedure.
Another way that we educate children is through our annual Brush-a-mania event. During Brush-a-mania, we teach children how to take care of their teeth, so that they stay healthy and cavity-free. This year's Brush-a-mania will take place virtually.
Pediatric dentistry

FAQs
When should my child have their first dental visit?
We recommend that you bring your child to see the dentist after their first tooth erupts or by the time they reach one year old. This allows us to catch small problems early on.
How do I prepare my child for their first dental visit?
You can help prepare your child by providing reassurance and having a positive attitude about the visit. You can also familiarize them with our office and team by showing them pictures from our website.
Why is it important to take care of baby teeth?
Even though baby teeth aren't permanent, it's still important to take care of them. Baby teeth, also called primary teeth, serve as space holders for adult teeth, guiding them into their proper position. Your child needs healthy baby teeth for proper speech and eating.
What are the most common dental problems in children?
Children may struggle with several common dental issues, including:
Tooth decay from insufficient brushing and sugary foods and drinks.
Sensitivity surrounding a newly erupted tooth.
Gum disease from poor oral hygiene or crowded, hard-to-clean teeth.
Teeth alignment issues from excessive thumb sucking.
Dental anxiety and phobias that make dental visits challenging.
If you think your child has any of the above dental problems, don't worry. We can help ease their fears and restore their oral health. Book a visit [Link to appointment form] with one of our friendly and experienced Ottawa dentists to start your child on the right path to a healthy smile.
New to our clinic? What to expect
1. Book a visit
We're always here to help you reach your healthy smile goals. The first step is to give us a call at 613-224-1393 or book a visit online.
2. First visit
During your initial visit, one of our friendly Ottawa dentists will perform an exam and come up with the right treatment plan for your needs.
3. Your smile, your choice
We know that coming to the dentist can be intimidating. We'll help put you at ease, so you can make empowered choices about your oral health.
Great dental care for the
whole family
Our experienced Ottawa dentists are here to help your child have a healthy smile for years to come. We welcome new pediatric dentistry patients in Ottawa.