COVID-19

update

The last few months have been difficult for many. We understand that you may have concerns about leaving your home for a dental procedure. We want to assure you that we take Covid-19 seriously. We are taking measures to ensure your health and safety while in our care.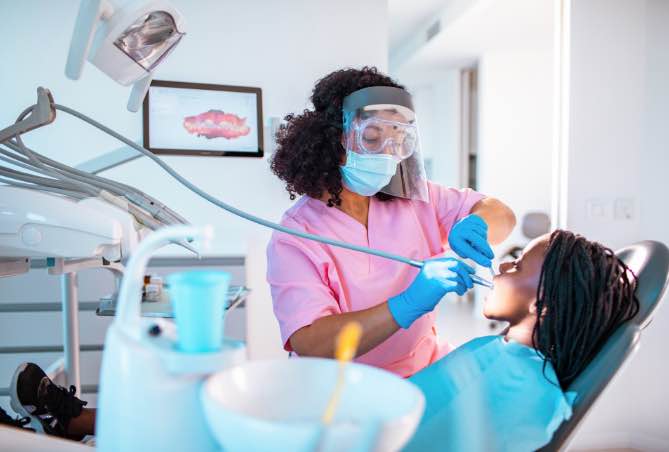 Doing our part

to stop the spread

Our clinic adheres to rigorous procedures to help stop the spread of Covid-19. The protocols we're implementing include:
Screening questions: We will ask a few screening questions to make sure everyone coming into our clinic is feeling their best.
Contactless check-in: We'll offer the same welcoming greeting, but through a plexiglass protective wall.
Mask required: We ask you to wear a mask until your procedure commences, as well as after it is complete. If you do not have a mask, we will provide one for you.
Minimalist waiting area: For the time being, we no longer have magazines or coffee in the waiting room. This helps with our sanitization procedures.
Covered up team members: We'll still have the same warm, smiling faces. However, you may not see them beneath our team's personal protective equipment.
Increased sterilization: As an extra precaution, we have increased sanitization in common areas.
Air purification: We have upgraded our air filtration systems to provide better air purification.
Protocols in our clinic
Only patients with an appointment (and their guardian, if needed) will be allowed into the clinic.
Hand sanitization is required upon entry into the clinic.
Shoe covers and masks must be put on at the entrance.
Rescheduling an appointment
If you had an appointment scheduled during the clinic closures, please give our office a call at 613-224-1393 to reschedule.

We're here
for you
The pandemic has made us realize how interconnected we are as a community. It's important for everyone to follow the safety steps outlined by the government. If you have any further questions or concerns about our Covid-19 protocols, please contact us.