Dental bridges

Ottawa

We offer dental bridges to replace missing or damaged teeth and restore your smile. Book a visit to find out if a dental bridge is right for you.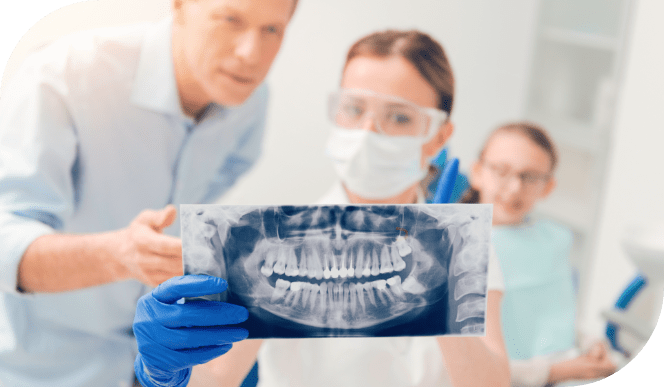 Replace missing teeth and smile with confidence
Dental bridges are dental restorations that close or "bridge" the gap in your smile caused by missing or severely damaged teeth. With the help of dental bridges, we can restore the appearance and function of your teeth.
You'll be able to smile, chew, and speak more confidently. Dental bridges can also be shade-matched and contoured to blend beautifully with your natural smile.
Benefits of dental bridges in Ottawa
Replaces missing teeth
Improves appearance
Blends with natural teeth
Improves chewing
Durable and long-lasting
Improves confidence
Prevents other teeth from shifting
Our experienced and trusted Ottawa dentists welcome new patients for dental bridges.
There are 4 types of dental bridges
Traditional dental bridge
A false tooth, or teeth, is held in place by crowns that have been cemented onto adjacent natural teeth, known as abutment teeth.
Cantilever dental bridge
A false tooth, or teeth, is held in place by a crown that has been cemented to only one abutment tooth.
Maryland dental bridge
Similar to a traditional dental bridge, except a metal framework is used in place of crowns to hold the false tooth or teeth in place.
Implant supported dental bridge
Traditional bridges that are cemented to dental implants, rather than natural teeth.
Dental bridge process in Ottawa
Step 1: Consult with a dentist
The first step for getting dental bridges in Ottawa is to talk to your dentist. They will perform an exam and assess whether you're a good candidate for the procedure.
Step 2: Local anesthetic
Your dentist numbs the area with local anesthetic, so that the procedure is as pain-free and comfortable as possible.
Step 3: Teeth preparation
The abutment teeth are shaped to fit the bridge.
Step 4: Dental impressions
Your dentist takes impressions of the abutment teeth. At our Ottawa dental clinic, we use a scanner to take digital impressions of your teeth, rather than gooey clay impressions. You may receive a temporary bridge to protect your mouth while your permanent bridge is being made.
Step 5: Bridge creation
At this point, some dental offices will ship your impressions to a lab for bridge creation. At Merivale Dental Centre, we use CEREC (Chairside Economical Restoration of Esthetic Ceramics) technology to create your bridge on site in one or two visits.
Step 6: Bridge placement
Your dentist cements your new bridge to the abutment teeth. Before you go, they'll advise you on home care for your dental bridge, which will typically be similar to how you care for your natural teeth: brushing, flossing, and regular dental checkups.
CEREC technology
Our Ottawa dental office uses CEREC technology to design and create your dental crowns and bridges in one or two visits. CEREC uses both computer-aided design (CAD) and computer-aided manufacturing (CAM) to carve custom-designed dental crowns on site. This allows us to restore your smile faster.
Dental bridge

FAQs
Do I need a dental bridge?
Dental bridges are used to replace missing teeth and restore the look and function of your smile. You may need a dental bridge if you have one or more missing or severely damaged teeth. Consult with one of our experienced Ottawa dentists to find out if you need a dental bridge.
What are dental bridges made of?
Dental bridges are usually made of a combination of alloys and porcelain or ceramics that have been fused to metal for greater strength. A dental bridge can be constructed entirely of metal, however this is rare.
How long will a dental bridge last?
With proper care, dental bridges can last 10 to 20 years or even longer. Keeping your mouth healthy with daily brushing, flossing, and regular dental visits will help prolong the life of your bridge.
New to our clinic? What to expect
1. Book a visit
We're always here to help you reach your healthy smile goals. The first step is to give us a call at 613-224-1393 or book a visit online.
2. First visit
During your initial visit, one of our friendly Ottawa dentists will perform an exam and come up with the right treatment plan for your needs.
3. Your smile, your choice
We know that coming to the dentist can be intimidating. We'll help put you at ease, so you can make empowered choices about your oral health.
We're ready to
meet you
Our team of trusted dental professionals is ready to help you achieve a healthy, beautiful smile. We welcome new patients for dental bridges in Ottawa.