Wisdom teeth removal

Ottawa

We offer wisdom teeth removal to help you maintain a healthy smile. Book a visit to find out if it's time to have your wisdom teeth removed. Feel free to ask us about our dental sedation available.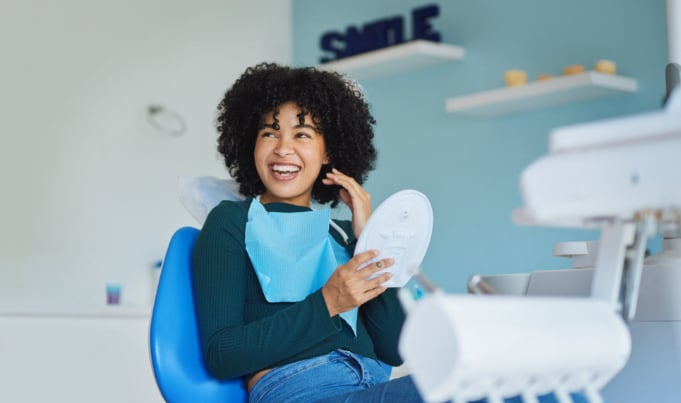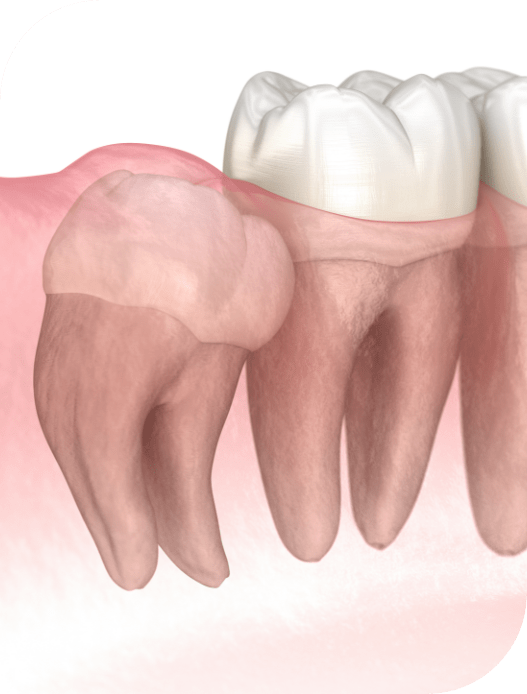 Do my
wisdom teeth

need to be removed?

Your wisdom teeth are molars found in the back of your mouth. They typically emerge between the ages of 17 and 20. Wisdom teeth that don't erupt properly usually need to be removed to prevent damage to the surrounding teeth, gums, and bone.

Common reasons to have your wisdom teeth removed:
Impacted wisdom teeth that are trapped within the jaw.
Wisdom teeth that have erupted at the wrong angle.
Partially erupted wisdom teeth that are hard to clean.
Benefits of
wisdom teeth

removal

If your wisdom teeth haven't erupted properly, there are many benefits to having them removed.

Prevents discomfort: Removing problematic wisdom teeth will help prevent and relieve pain and discomfort.

Prevents damage to other teeth: Wisdom teeth removal prevents other teeth from shifting and causing crowding and bite issues.

Prevents inflamed gums: Removing your wisdom teeth can keep your gums healthy by preventing infections.

Our trusted Ottawa dentists welcome new patients for wisdom teeth removal.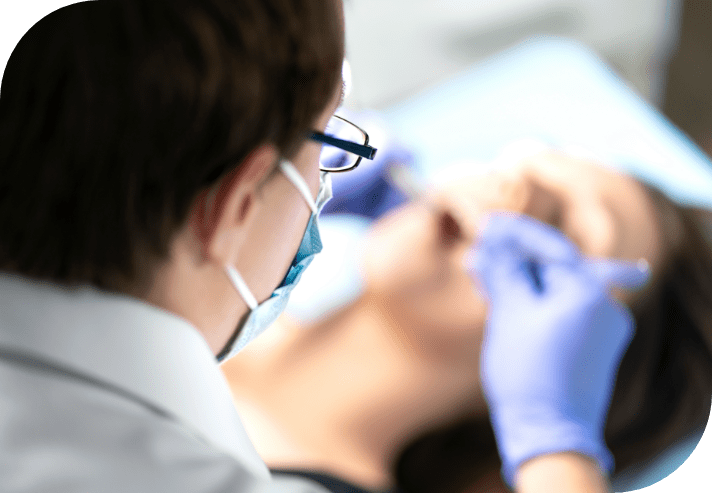 Wisdom teeth removal process in Ottawa
We understand that the idea of getting your wisdom teeth removed may be daunting. Our Ottawa dentists work to create a relaxing environment where your comfort is our priority.
Here's what to expect when you get your wisdom teeth removed:
Step 1: Consult with your dentist
The first step for wisdom teeth removal is to consult with your dentist. They will examine your teeth and perform x-rays. If they discover that you have wisdom teeth that haven't erupted properly, they may recommend wisdom teeth removal to prevent future problems.
Step 2: Address concerns
Before your wisdom teeth are removed, you'll have the chance to discuss any concerns or questions you may have. Your dentist will advise you on how to prepare for the procedure, and plan for recovery afterwards. They'll also discuss the process, so you'll always know what to expect. Step 3: Local anesthesia
Your dentist will administer local anesthesia to numb the area, so that your wisdom teeth removal is as pain-free as possible. In some more complex cases, dental sedation may be used to put you to sleep. We offer sedation dentistry for a stress-free experience.
Step 4: Extraction
Before extraction, your dentist will remove any gum tissue or bone covering the wisdom tooth. They will then gently loosen the tooth and remove it. Finally, your dentist will close up the area with dissolvable stitches.
Step 5: Home care
After your wisdom teeth removal, your dentist will review the steps for home care, such as proper cleaning, and what foods to eat. They'll also advise you on pain management during the healing process. A checkup is usually scheduled for one week later.
Wisdom teeth removal FAQs
Will wisdom teeth removal hurt?
You shouldn't feel any pain during wisdom teeth removal, because your dentist will numb the area with local anesthesia. You may experience soreness and discomfort in the days following the procedure.
How much does wisdom teeth removal cost?
The cost of wisdom teeth removal in Ottawa will depend on the difficulty of the extraction and whether or not you have dental insurance coverage. When you consult with one of our dentists, they can advise you on treatment options and costs.
Can you put me to sleep?
Wisdom teeth removal is a common procedure that can be done while you're awake, using local anesthesia to numb the area. In some cases, your dentist may recommend dental sedation to put you to sleep during the procedure. Reasons for dental sedation during tooth removal include: a complex case, several wisdom teeth to remove, or high anxiety levels.
What can I eat after wisdom teeth removal?
After your wisdom teeth are removed, you'll want to follow your dentist's instructions on what to eat and drink for optimal healing. They will probably advise you to stick to liquids and soft foods, such as smoothies and pureed vegetables, for the first few days. As you continue to heal, you'll gradually be able to move onto more solid foods.
How long does it take to heal after the procedure?
Healing from wisdom teeth removal is a gradual process. Any swelling and pain should improve within three to five days. Depending on the complexity of your wisdom teeth removal, it may take up to two weeks to recover fully. However, you'll see improvements everyday.
New to our clinic? What to expect
1. Book a visit
We're always here to help you reach your healthy smile goals. The first step is to give us a call at 613-224-1393 or book a visit online.
2. First visit
During your initial visit, one of our friendly Ottawa dentists will perform an exam and come up with the right treatment plan for your needs.
3. Your smile, your choice
We know that coming to the dentist can be intimidating. We'll help put you at ease, so you can make empowered choices about your oral health.
We're here to
help
If you or a member of your family is feeling the push of Our team of trusted dental professionals is ready to help you achieve a healthy smile. We welcome new patients for wisdom teeth removal in Ottawa.