Invisalign Ottawa
We can help you straighten your teeth with Invisalign, the clear and removable alternative to metal braces. Book a visit to find out if Invisalign is right for you. Financing options are available.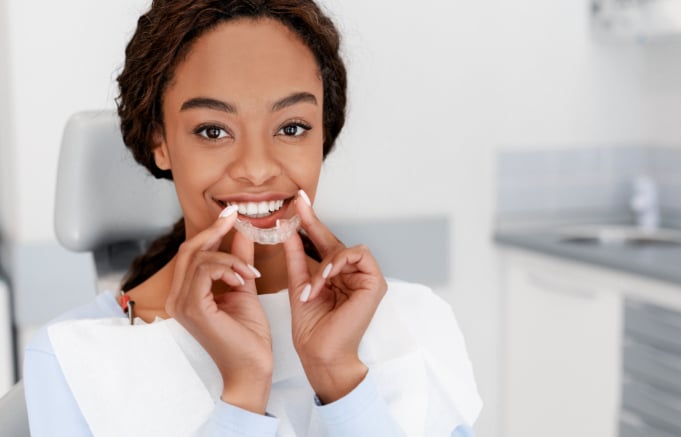 Conveniently straighten your teeth as an adult
Invisalign clear braces are a simple and aesthetic way to improve your smile as an adult or teen. The removable clear aligners are flexible enough to suit your lifestyle. You'll straighten your teeth without the restrictions that come with metal braces.
Key benefits of Invisalign:
Practically invisible
Easily removable
Straightens teeth
Easy to clean
Comfortable
Aesthetic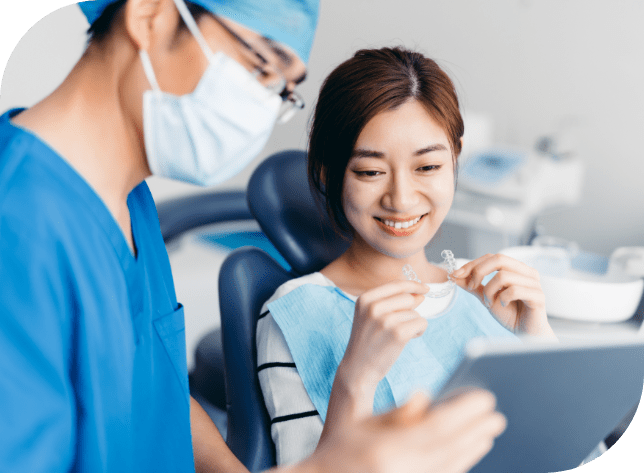 How Invisalign works
Invisalign uses aligner trays made of smooth, clear plastic you wear over your teeth. The aligners gently shift your teeth into place with minimal interference in your daily life.
Because Invisalign aligners are practically invisible, people may not even notice you're wearing them.
Invisalign Ottawa—3 steps to a straighter smile
Step 1: Meet with your dentist
Consult with one of our Ottawa Dentists to find out if Invisalign is right for you. They'll examine your smile and tell you the best treatment options.
Step 2: Receive a treatment plan
After taking photos and x-rays of your teeth, your dentist will work together with Invisalign technicians to come up with a custom treatment plan for you.
Step 3: Wear your aligners to transform your smile
Wear your clear aligners everyday and watch your teeth gradually straighten. Your dentist will be with you every step of the way to monitor progress.
Our Ottawa dentists are here to help you reach your beautiful, healthy new smile.
Invisalign FAQs
How many hours per day should I wear Invisalign aligners?
It is recommended that you wear your aligners 20 to 22 hours per day. You must take them out when you brush, floss, eat and drink anything other than water.
How often will I have to visit the dentist?
During the Invisalign process, our Ottawa dentist will check your progress every four to six weeks.
How much does Invisalign cost?
The cost of Invisalign depends on how complex your case is and how many aligners you need. In most cases the cost of Invisalign is similar to metal braces.
Can I get Invisalign for just my top or bottom teeth?
Yes, you can get Invisalign treatment for just the top or bottom teeth. Your dentist will advise you on what options are best for your needs.
How long will Invisalign treatment last?
The length of Invisalign treatment depends on your needs. On average, treatment lasts 12 to 18 months, but some people can reach their desired result within six months.
New to our clinic? What to expect
1. Book a visit
We're always here to help you reach your healthy smile goals. The first step is to give us a call at 613-224-1393 or book a visit online.
2. First visit
During your initial visit one of our friendly Ottawa dentists will perform an exam and come up with the right treatment plan for your needs.
3. Your smile, your choice
We know that coming to the dentist can be intimidating. We'll help put you at ease, so you can make empowered choices about your oral health.
We're excited to
meet you
Our team of trusted dental professionals is ready to help you achieve a healthy, beautiful smile. We welcome new patients for Invisalign braces in Ottawa.