Dental crowns Ottawa
We offer dental crowns to restore damaged teeth and help you smile with confidence. Book a visit to find out if a dental crown is right for you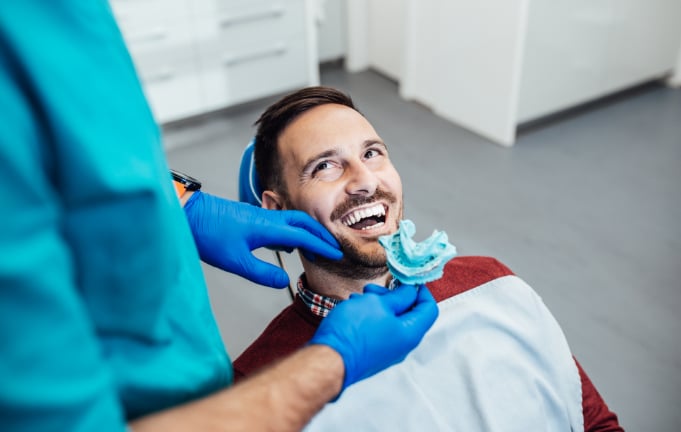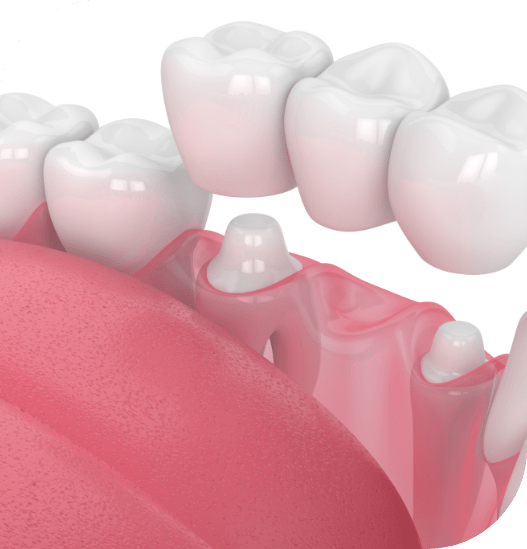 Restore and renew your smile with
dental crowns
Dental crowns restore damaged teeth to improve chewing, speech, and overall functionality. They can also improve the aesthetics of your teeth, creating a more even, beautiful smile.
A dental crown is a thin shell that covers the entire visible part of the tooth, becoming the tooth's new outer surface. It can be made out of metals, ceramics, resins, or porcelains.
A popular and versatile tooth restoration option, dental crowns help correct a range of teeth imperfections, including:
Cracked teeth
Gaps between teeth
Misshapen teeth
Decayed teeth
Discoloured teeth
Chipped teeth
Benefits of
dental crowns
Strengthen teeth: Dental crowns reinforce weak teeth. They are made of durable materials, so they can strengthen your teeth for several years to come.
Restore teeth: Dental crowns can restore the size, shape, and strength of damaged teeth. They also improve functionality, so you can eat your favourite foods without restrictions.
Permanent: Dental crowns are permanently bonded to the tooth's surface. They are as comfortable as your natural teeth.
Aesthetic: Dental crowns cover up dental imperfections. They can also be shade-matched to the rest of your teeth for a naturally beautiful result.
Protect teeth: Dental crowns provide protection by covering the tooth's surface. This prevents damage from bacteria and daily wear.
Improve confidence: Dental crowns can help you let go of self-consciousness. With healthy-looking teeth, you'll be able to confidently show your full smile.
Our trusted Ottawa dentists welcome new patients for dental crowns.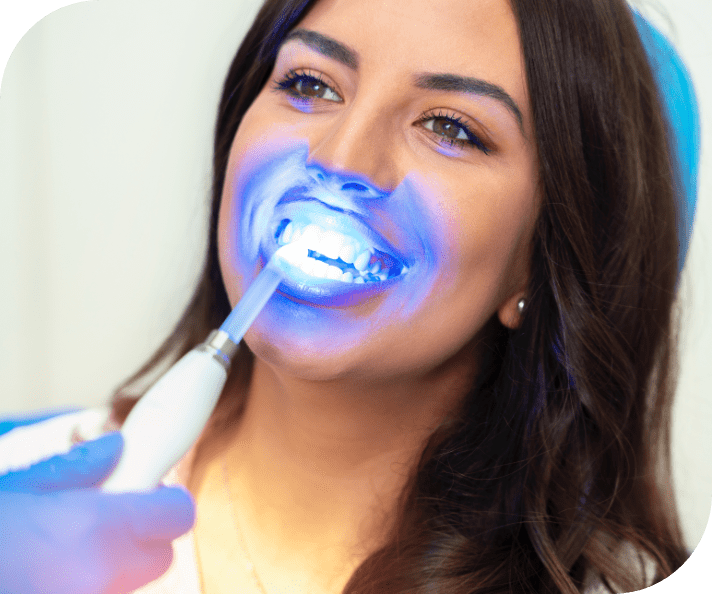 Dental crown process in Ottawa
Step 1: Consult with a dentist
The first step for getting dental crowns in Ottawa is to talk to a dentist. They will perform an exam and assess whether you're a good candidate for a dental crown.
Step 2: Local anesthetic
The area is numbed with local anesthetic, so that the procedure is as pain-free and comfortable as possible.
Step 3: Toot preparation
Your dentist shapes your natural tooth by gently filing it to fit the crown. Step 4: Dental impressions
Now it's time to take impressions of your teeth. At our Ottawa dental clinic, we use a scanner to take digital impressions of your teeth.
Step 5: Crown creation
At this point, some dental offices will ship your impressions to a lab for crown creation. At Merivale Dental Centre, we use CEREC (Chairside Economical Restoration of Esthetic Ceramics) technology to create your crown on site in one visit.
Step 6: Crown placement
Your dentist cements the dental crown onto your tooth. Before you go, they'll advise you on home care for your crown. This will typically be similar to how you care for your natural teeth: brushing, flossing, and regular dental checkups.
CEREC technology
Our Ottawa dental office uses CEREC technology to design and create your dental crown in one visit. CEREC uses both computer-aided design (CAD) and computer-aided manufacturing (CAM) to carve custom-designed dental crowns on site. This allows you to restore your smile in as little as one or two visits.
Cost of dental crowns in Ottawa
The cost of dental crowns in Ottawa varies depending on a few factors. The material of the crown and the location and size of the tooth can influence costs. Porcelain fused to metal crowns are typically more expensive than metal crowns.
Dental crowns

FAQs
Do I need a dental crown?
You may need a dental crown if you have one or more chipped, misshapen, discoloured, or broken teeth. Dental crowns can also be used to address dental imperfections, such as gaps and uneven teeth. Consult with one of our Ottawa dentists  to find out if you need a dental crown.
How long will a dental crown last?
How long your crown lasts depends on the material. Metal crowns usually last the longest. However, thanks to technological advancements, ceramic and porcelain crowns can last nearly as long as metals. The lifespan of a dental crown can range from 5 to 25 years.
What are dental crowns made of?
Crowns can be made of ceramic, metal, or porcelain fused to metal.
Can I get a crown in one appointment?
At Merivale Dental Centre in Ottawa it is possible to get your crown in one visit. We use CEREC technology to carve custom-designed crowns on site. You won't have to wait weeks for your crown to be manufactured in a lab.
What if my dental crown breaks or falls out?
If your dental crown breaks or falls out, contact your dentist as soon as possible to have it replaced. Crowns that have fallen out should be rinsed and put in a safe place. If the crown is undamaged, your dentist should be able to reattach it.
New to our clinic? What to expect
1. Book a visit
We're always here to help you reach your healthy smile goals. The first step is to give us a call at 613-224-1393 or book a visit online.
2. First visit
During your initial visit, one of our friendly Ottawa dentists will perform an exam and come up with the right treatment plan for your needs.
3. Your smile, your choice
We know that coming to the dentist can be intimidating. We'll help put you at ease, so you can make empowered choices about your oral health.
We're ready to
meet you
Our team of trusted dental professionals is ready to help you achieve a healthy, beautiful smile. We welcome new patients for dental crowns in Ottawa.