Microscope dentistry

Ottawa

We use microscope dentistry to improve your smile with greater accuracy and precision. Book a visit to find out the best treatment options for you.
Better visibility

for a healthier smile

At Merivale Dental Centre, we use microscope dentistry for enhanced visibility into your oral health. With the use of a dental operating microscope, we can see your tooth structures at 14x magnification.

Improved visibility of your teeth and gums provides many benefits.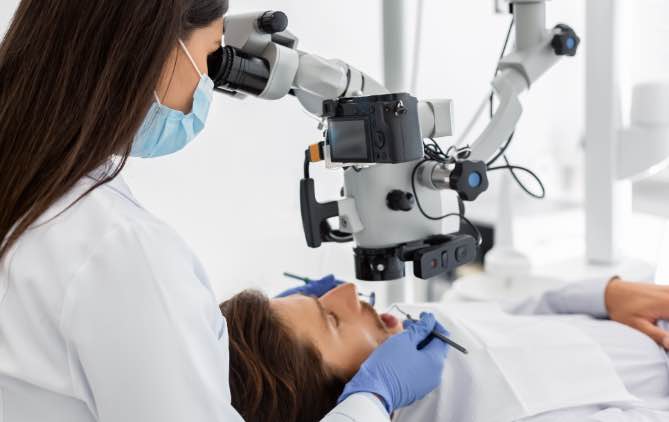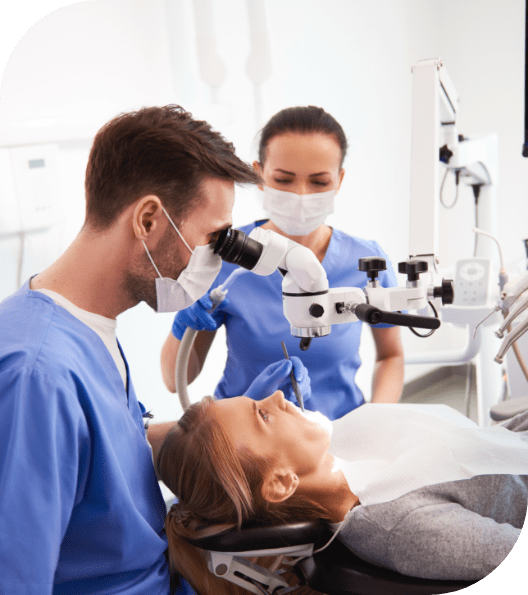 Benefits of
microscope dentistry

in Ottawa

Greater accuracy and precision: Microscope dentistry enhances visibility, which leads to greater accuracy in diagnosis and treatment.

Early diagnosis: With the help of microscope dentistry, your dentist can detect early signs of decay, gum disease, and oral cancers.

Improves aesthetics: Microscope dentistry helps your dentist polish fillings and crowns to a smoother, more natural finish.

Better communication: Because the microscope is hooked up to a video screen, your dentist can show you what's happening in your mouth.

Preserves tooth structure: Improved visualization prevents the removal of excess tooth structure during root canals and restorations.

Improves root canals: Microscope dentistry allows your dentist to access and treat small, narrow canals that they might have otherwise missed.

Advanced lighting: Microscopes are equipped with a bright LED light, which leads to better visualization of the treatment area.
Advanced technology for better oral health
At our Ottawa dental office we use advanced technologies for better, faster, and more efficient dental treatments. Microscope dentistry is one of the many forms of technology we use to provide quality care. Discover some of the other dental technologies we use on our digital dentistry page.
New to our clinic? What to expect
1. Book a visit
We're always here to help you reach your healthy smile goals. The first step is to give us a call at 613-224-1393 or book a visit online.
2. First visit
During your initial visit, one of our friendly Ottawa dentists will perform an exam and come up with the right treatment plan for your needs.
3. Your smile, your choice
We know that coming to the dentist can be intimidating. We'll help put you at ease, so you can make empowered choices about your oral health.
Seeing a
better path

to dental health

Our team of trusted dental professionals is ready to help you achieve a healthy, beautiful smile with the help of advanced technologies, such as microscope dentistry. We welcome new patients in Ottawa.