Dental implants Ottawa
We offer dental implants to replace missing teeth and restore your smile's appearance and functionality. Book a visit to find out if dental implants are right for you.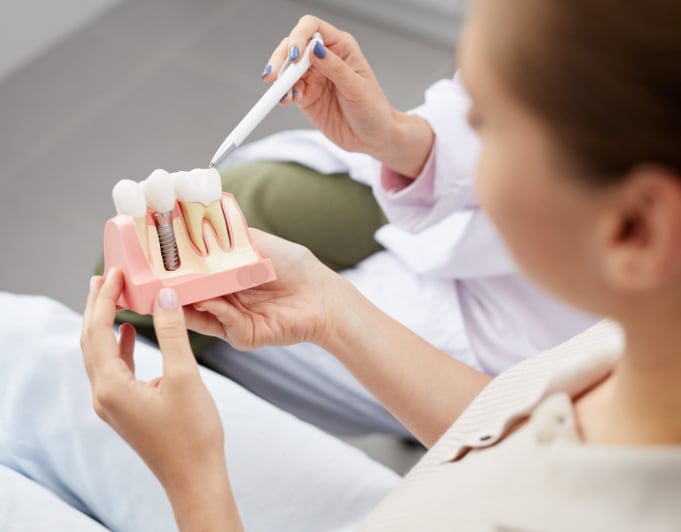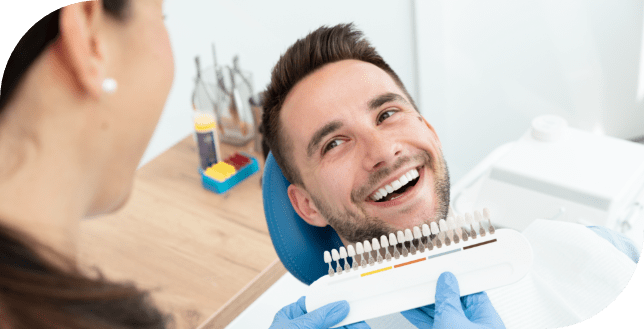 Restore your smile with
dental implants
A dental implant is a comfortable and aesthetic way to replace missing teeth. With proper care, dental implants are durable enough to last a lifetime, making them a great long term investment for your smile.
Dental implants replace tooth roots and act as anchors for artificial replacement teeth. They can be used to replace a single tooth, or multiple teeth in different areas of the mouth.
There are several advantages to choosing dental implants over other tooth replacement options, such as partial or full dentures.
Benefits of
dental implants
Natural look and feel: Dental implants are made to look and feel like real teeth.
Long lasting: With proper care, dental implants can last several years to a lifetime.
Healthy smile: Dental implants leave adjacent teeth intact, so your smile stays healthy.
Easy to eat: With dental implants you can eat your favourite foods with confidence.
Easy to clean: You can care for implants the same way that you would for your natural teeth.
Improves speech: Dental implants allow you to speak easily and confidently.
Highly durable: With implants, you can bite with the same force as with your real teeth.
Prevents bone loss: A dental implant helps stimulate and preserve jawbone structure.
Improves self-esteem: implants help you feel comfortable showing your full smile.
We welcome new patients for dental implants in Ottawa.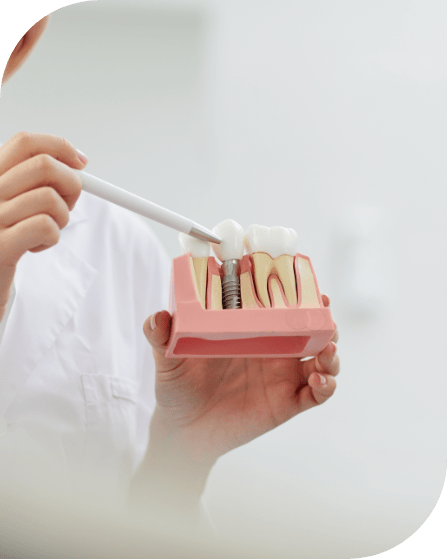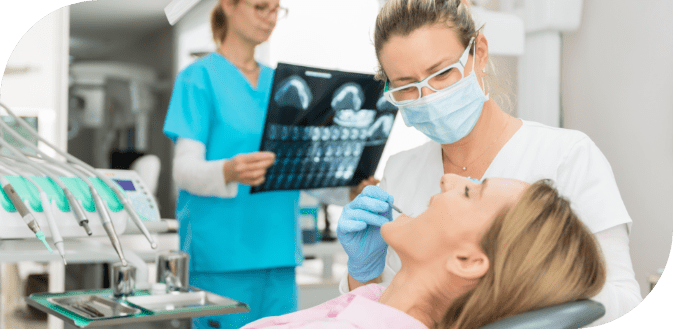 Should I get dental implants?
Dental implants are a great solution for people who've lost one or more teeth to tooth decay, gum disease, or an accident. However, dental implants are not for everyone. Heavy smokers, and people with certain health conditions may not be ideal candidates for dental implants.
Your dentist will be able to evaluate your medical history and determine if dental implants are right for you.
Dental implant process in Ottawa
You may be wondering what to expect during the dental implant procedure. Here is a breakdown of the steps involved.
Step 1: Consultation with a dentist
The first step for getting dental implants in Ottawa is to talk to your dentist. They will perform an exam and assess whether you're a good candidate for dental implants.
Step 2: Implant placement
A metal post is placed into your jawbone underneath gum tissue, and then the area is stitched up. Before you go, your dentist will review home care practices.
Step 3: Healing
After the dental implant procedure, you'll need to wait a few months for the tissue to heal. During this time, the implant will merge with your jawbone and attach to your gums.
Step 4: Attachment
Your dentist attaches an abutment to the implant, which will help hold the replacement tooth in place. The artificial tooth is then customized and attached to the abutment. Cost of dental implants in Ottawa
The cost of dental implants will depend on the complexity of your case and the number of implants and artificial teeth needed. When you visit Merivale Dental Centre, our Ottawa dentists will perform an exam and let you know how much your treatment will cost.
Dental implant FAQs
Are dental implants painful?
Your dentist will administer local anesthesia to numb the area, so that your dental implant procedure is as pain-free as possible. In some more complex cases, dental sedation may be used to put you to sleep. We offer sedation dentistry for a stress-free experience. You may experience some discomfort and soreness after the anesthesia wears off. However, this will improve daily as you heal.
Can dental implants decay?
Dental implants are made of titanium and porcelain, materials that do not decay. However, the area surrounding a dental implant is still susceptible to gum disease. Keeping your gums healthy through proper oral hygiene will help prevent implant failure.
How do you care for dental implants?
You can care for dental implants the same way that you do real teeth: daily brushing, flossing, and regular dental checkups.
Does insurance cover dental implants?
In the past, dental implants were typically not covered by insurance, but this is starting to change. Many insurance companies are extending coverage for this procedure.
Also keep in mind that if your insurance includes a health spending account, you may be able to use this for dental implants.
New to our clinic? What to expect
1. Book a visit
We're always here to help you reach your healthy smile goals. The first step is to give us a call at 613-224-1393 or book a visit online.
2. First visit
During your initial, visit one of our friendly Ottawa dentists will perform an exam and come up with the right treatment plan for your needs.
3. Your smile, your choice
We know that coming to the dentist can be intimidating. We'll help put you at ease, so you can make empowered choices about your oral health.
We're ready to
meet you
Our team of trusted dental professionals is ready to help you achieve a healthy, beautiful smile. We welcome new patients for dental implants in Ottawa.